If a bookmaker offers an eWallet funding facility then chances are that Neteller will be included on their roster. Along with Skrill, Neteller are the most popular provider for the gambling industry and they offer great flexibility for anyone wishing to play without using their bank account.
But if you're unsure as to how to proceed, here is a handy guide to using Neteller and how it operates.
Neteller Betting Sites List
In order to spare you the extra work, we compiled a selection of Neteller bookmakers below. Rest assured these are all online betting sites that accept Neteller as a banking option, a payment method either when depositing or withdrawing funds from your betting account.
Points to Note
While Neteller gives us all a very flexible way of depositing to and withdrawing from our bookmaker's account, there are some very important points that you have to note. Perhaps the most crucial issue is the fact that some online bookmakers exclude depositing by eWallets if you want to take up their promotions – particularly their welcome bonus offers. This is however certainly not true for the betting sites listed on this page, as those are pre-filtered for you.
Coral is a very good example of this: when you sign up for a new account and take either their standard bonus or an enhanced odds bonus deal, you will be ineligible if you fund via Neteller, Skrill or PaySafeCard. Ongoing payments are fine but any related to a promo should be checked very carefully regarding the payment method.
Terms in regard to this should be clearly shown but if you are in any doubt you can always contact a customer services operative.
Minimum and maximum levels for withdrawals and deposits may also apply and in rarer instances, there may be charges relating to Neteller transactions. Once again, any relevant terms for this should be clearly shown by the operators in question that accept Neteller.
You should also be aware that there are charges at every point from Neteller. Unlike Paypal where you only pay a percentage when you receive money for goods or services, with this provider there will be charges for receipts, payments and withdrawals into your bank account.
These are relatively small but you should be aware of them, particularly if you are playing with Neteller at the sportsbooks so check online to see the current rates.
How it Works – How to Use Neteller?
Signing up for Neteller betting accounts and using Neteller is very straightforward and just requires some basic information but if you want to use all the facilities then you will be asked for proof of your ID via a passport, official driving licence or other recognised document.
You can then link up your bank account to make deposits or withdrawals. Payments to Neteller bookmakers can then be made once you have funds in that Neteller account and naturally you can take any winnings from the bookies and place them there too.
Neteller hold your account securely so there are no concerns in this area. The company also provides an access card where you can withdraw via an ATM or pay for goods and services as you would with a standard debit card.
Deposit to a Betting Site with Neteller
Neteller offers a service that allows you to make online payments to betting sites instantly and for free. The easiest way to do that is to visit the actual online gambling site's cashier and initiate a real money bank transfers from there. Let's see how this looks like with bet365:
1. Log in to your bet365 account and click on the Deposit Now button on the top right side.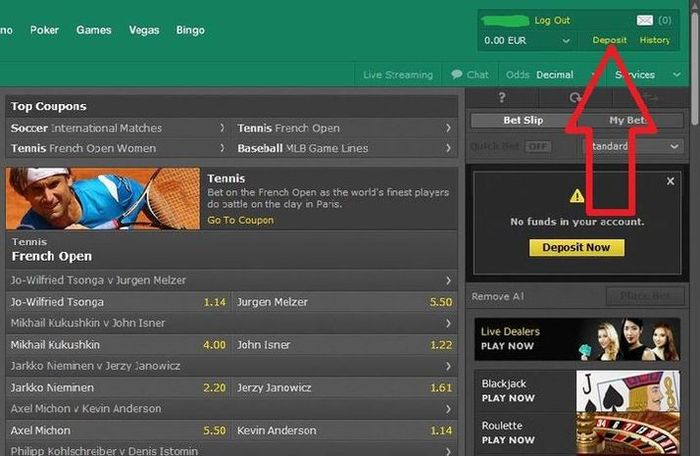 2. In the pop up window select Neteller from the drop-down menu and fill your Neteller Account ID, Security ID, the deposit amount (above the minimum deposit if there's such) and your password.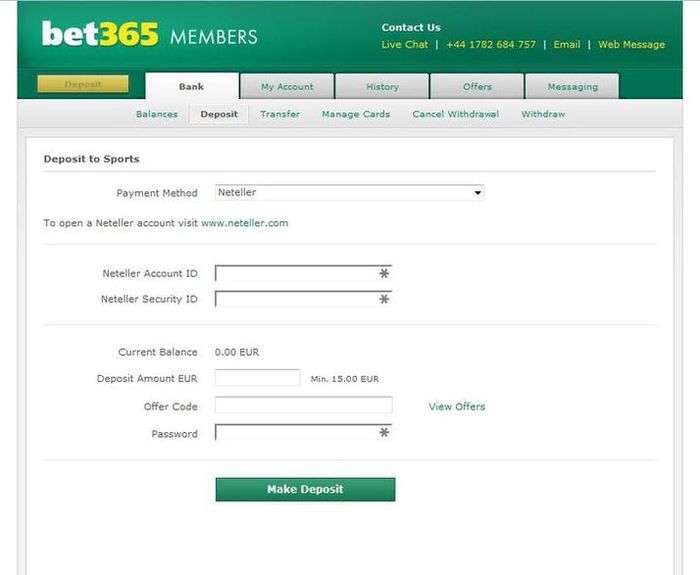 When done, click the 'Make Deposit' button and you are done. The deposit is totally free and the minimum deposit is 10 GBP, while the maximum is 20.000 GBP. The money will appear instantly on your bet365 betting account and you are ready to start wagering. Couldn't be easier, right?
Cashout from a Betting Site with Neteller
Ideally, you'll also have to withdraw your winnings from the operator at some point, and Neteller comes handy here as well. Just as easily as you deposited you can cash out your funds to your Neteller account, from where you can make bank transfers it directly to your bank account or Mastercard. Here's how:
1. Log in to your online gambling account and find a link to 'Withdrawal' ro the Cashier. In our example with bet365 you should click on 'Deposit' just like with depositing in the previous example, and then click ont he 'Withdraw' tab on the right.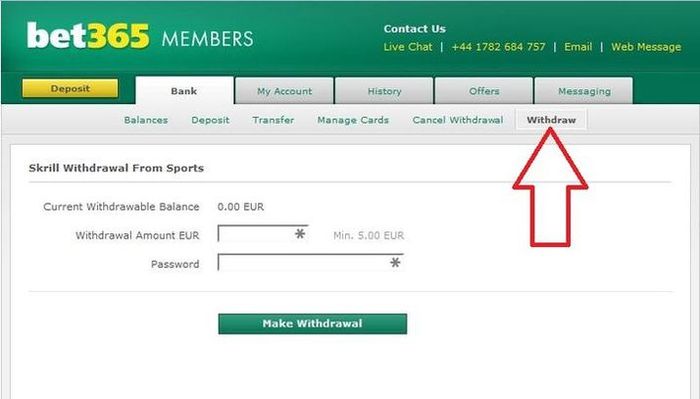 2. Now enter the amount you would like to withdraw and press the 'Make Withdrawal' button. Note that you don't need to log in to your Neteller account at this stage. With most betting sites the method used when depositing will be used for the cashout as well by default. In some cases -mostly when you already deposited via multiple methods- you can choose which option you would like to use for the withdrawal.
Neteller Top Up and Withdrawal
In order to be able to pay into any gambling provider, first you need to top up your Neteller account. Just select the 'Money In' link in your eWallet and select the option that suits you the most.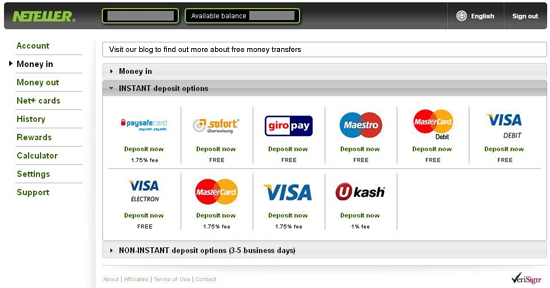 Deposit options are listed with their icons for easier browsing and they include the debit card of your choice (VISA, Mastercard, Maestro), Ukash, Paysafecard and some local options. Also, to give you all the information you need, you can also check the fees associated with each deposit option. When you made your choice, click on it and follow the step-by step instructions for loading your ewallet.
Opening a Neteller account
It is totally free to join, you just need to register an account and within one minute you can have it up and running. Just enter your details and you are ready to go. You can have your ewallet in any of 22 different currencies and make a Neteller deposit with the following: AUD, GBP, BGN, CAD, DKK, EUR, HUF, INR, JPY, LTL, MYR, MXN, MAD, NOK, PLN, RON, RUB, SGD, SEK, CHF, TND, USD.
1. Fill in e-mail address, country of residence and desired account currency
2. Fill in the personal details required
3. Print or edit your security questions (optional)
4. Verify your account: Your Neteller account will be unverified after registration. In order to unlock extra features such as your own Mastercard debit card linked to your Neteller acount or higher transaction limits, you have to verify yourself. To do so, click on 'UNVERIFIED' to be able to upload a copy of one of your IDs. A passport or drivers license is all you need here and within 1 working day you will be notified about the verification of your account.
History of Neteller
Neteller was originally formed in Canada back in 1999 and was set up specifically as an 'Authorised Electronic Money Institution'. At that time, the internet was still in its relative infancy but ecommerce was on the rise and the need for a choice of eWallet providers offered gaps in the market.
Neteller first became involved in the gambling industry in 2000 and began to process financial transactions for a number of sportsbooks at that time. That area of the business quickly began to dominate and in the same year, it was estimated that 95% of the company's revenue came from the gaming industry.
At that time, Neteller were a popular choice for US residents who could access online gambling portals but in 2007, the provider exited from the United States market. Despite that move, growth remained strong and in 2014, company revenue was reported to be at $89.6 Million USD.
These days, the Neteller payment method are a very important component in the betting industry as they give millions of customers flexible access to their preferred operator. For the Neteller betting sites themselves, having this eWallet as part of their funding schedule is vital to build a customer base so it's a win-win situation and the company will continue to offer an important funding route in the years to come.
Frequently Asked Questions about Neteller Betting
Is Online Betting with Neteller Safe, Secure and Legal?
Anyone using any funding method will need to know about levels of security. One of the key benefits of using Neteller betting sites is the fact that any cards or bank account details that you have linked to the site will not be shared with your bookmaker. The fewer websites that hold those details the better and this is a serious benefit attached to any eWallet.
But what about the Neteller site itself? Is Neteller safe and can we play with confidence here? The site uses high-tech encryption technology so, while it is storing details such as bank accounts and card numbers, they are protected from third parties. Independent reviews state that you can play here in complete confidence and that's obviously a big bonus.
What are Neteller Withdrawal Limits and Fees?
Neteller do charge fees so it's important to keep this in mind whenever you're looking to use the facility for deposits and withdrawals. These may be subject to change but on the current list of Neteller fees there is a 1.45% charge for sending money and this is subject to a minimum of £0.50. We would suggest, however, that you make a deposit into your account first because, if you haven't done that. Neteller may charge a one-off sending fee on your first payment of 20% with a minimum of £30.00.
Withdrawal fees are subject to a flat charge which is currently set at £12.75. Customers should note that they can also have a prepaid mastercard which can work in the same way as a debit card by carrying out purchases at point of sale. This includes adding or withdrawing funds at Neteller betting sites and it may be more cost effective.
In terms of Neteller limits, the minimum amount for withdrawals is £10.00 and the maximum is £5,000.
In which countries can Neteller be used for Gambling?
There is a wide spread of countries that will accept Neteller and only a few that will specifically exclude their citizens from using the service. In fact, Neteller and the Neteller app are available in over 100 countries worldwide so it may just be quicker to list those countries where it is not allowed.
As far as accepted countries are concerned, the list includes Australia, United Kingdom, Sweden, Switzerland, Canada, France, Germany, the Netherlands and New Zealand. We could go on but as you can see, this is going to be a very extensive list and you can read it in full at Neteller's website, under their section on terms and conditions.
How does Neteller Compare to Other Deposit Methods?
Neteller scores highly on most of the vital points that we need to look at here. Firstly, there is that high safety element which is stronger than many of its competitors. The ability to keep your financial information away from the sportsbook itself is a big bonus.
In some cases, Neteller fees may be high and they could be lower elsewhere. PayPal is an example of an eWallet that is more cost effective but they are not especially out of step with the rest of the industry. In terms of the eWallets that are more widely available such as Skrill, Poli, PaySafeCard and Zimpler, Neteller is a very cheap payment method and cost effective way of depositing funds into your sportsbook account. It may not be quite as cost effective when we look at withdrawals as that £12.75 flat fee is fairly steep but for deposits, it's a strong and competitive option.
Pros and Cons of Neteller Betting
Like all payment methods, there are positives and downsides when it comes to using the Neteller site or the Neteller app and we will quickly underline these here.
Firstly, in terms of benefits, there is the security aspect. Not only is the Neteller site safe to use, it also has the advantage that you can pay or withdraw at your bookmaker's account and they do not need to hold your account or card details.
Another positive is the fact that Neteller is widely accepted at more sportsbooks than most other methods. If the bookie in question accepts eWallet payments, there is a high chance that Neteller is one of those options.
If we look at downsides, the obvious point to pick up on relates to Neteller fees. They are higher than PayPal but they do compare favourably with other eWallets.
The deposit fee is, actually, fine and compares very nicely with many other eWallets of a similar size such as Skrill and PaySafeCard. The issue that some customers will face is related to withdrawal Neteller fees where there is that high flat charge.
Overall, it's a good balance and for those looking to use Neteller betting sites, there are enough positives to make this a wise choice.