Some free bet promos are more generous than others but a bonus of £50.00 as an initial sportsbook sign up represents an offer worth considering. There are a number of these available from a choice of operators with varying terms and here are some of the best on the market right now.
About £50 Free Bets
The sum of £50.00 may seem generous and, if we follow these betting offers and their terms and conditions, they can be very valuable indeed. It's important to understand those regulations and to take them onboard fully and if we do that, we could turn those free bets into very nice profits.
We'll run through some specifics as we look at current £50.00 deals but in general terms, what form do these bonuses take?
For a sum as high as £50.00, the majority of these promos will come as welcome offers for new customers. You may typically see a matched deposit of 50% or 100% with a maximum limit of £50.00 being made available to brand new account holders.
There may possibly be occasions where £50.00 could be issued in free bets for those that have already signed up. For example, a number of bookmakers publish 'Acca Insurance' deals where losing bets can be refunded if just one leg of a multiple fails to come in. With that type of deal, the maximum limit can be smaller at around £25.00 but it's not unknown for £50.00 in free bet tokens to be made available.
We always recommend looking at the specific terms and conditions but what are the most important points to look out for? Firstly, you should be aware that with free bet tokens, there will almost certainly be a time limit and if you don't use those tokens before their expiry date, they will be lost and will not be replaced.
Look out too for any rollover requirements among that full set of terms and conditions. With those points firmly in mind, let's now look at some of the current £50.00 free bet offers that have been made available by the industry.
BetHard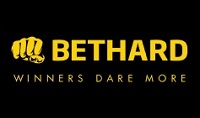 The BetHard £50 free bet bonus is also a welcome deal for new customers but this works in a slightly more complicated fashion. Essentially, the company will give their new players a £5.00 free bet every time they stake and play through £100.00.
The bonus can be used up to a maximum of ten times so, if you are happy to stake a qualifying amount of £1000.00, you can claim the full available bonus of £50.00. The choice is yours but like all of these welcome betting bonuses, the first thing to take care of is account registration.
It's a simple process and it all kicks off by clicking on the Create Account button which can be found at the top right hand corner of the homepage. This will, in turn, lead to a short series of forms where you need to input your essential information and set your account preferences. Be prepared also to provide your ID documents if they are required.
This works a little differently to most offers so do be sure to check those terms and conditions in full but these are the essential points: Firstly, you need to make an initial deposit of at least £20.00 and then you can start to complete the series of wagers. Remember, for every £100 staked you can claim a £5.00 free bet and you can repeat this process up to ten times.
In terms of sportsbook qualifiers, each bet must be placed at minimum odds of 4/5 (1.80) or higher. You can, however, also trigger these £5 freebies by playing at the BetHard casino. When the £100.00 threshold is reached, the £5.00 will be released to you.
Perhaps the main point to note here is that you have just seven days in which to complete this offer so it is quite a tight turnaround. In addition, £1000 is quite a high figure to stake in order to receive the full £50.00 in bonuses but if you are the type of high roller who can work through this level of numbers quickly, you should definitely check out this £50.00 new customer offer from BetHard.
Visit BetHard
22Bet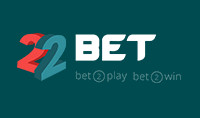 Some will consider the 22Bet £50 free bet offer to be the best of all because it works as a 100% match on your initial deposit. As you will have guessed by now, this is another new customer deal so we can kick things off by heading to the promotions page and clicking on the big green sign up button.
Like all of the sportsbooks on this list, the registration process is very streamlined. No operator wants you to be hanging around for ages with a complicated sign up so, having input some essential information, you should have completed the first part of the procedure in just a couple of minutes or so.
Now you will need to make a deposit of at least £10.00. You should do this by using a card and you must remember to enter the Promo Code 50SPORT at the appropriate stage. That's taken care of the preliminaries and now it's time to complete the qualification process.
With your funds clear and ready to use right away, you must now head to the sportsbook and place an opening bet using minimum odds of 1.65. Once that bet is settled, the 100% matching bonus, up to that maximum ceiling of £50.00, will be issued. Before withdrawing any profits, you must play through this once using those same qualifying odds of 1.65 and you have up to 30 days in which to do this.
All of the deals listed on here will result in a return of £50.00 if you follow them correctly. This deal from 22Bet happens to have a quicker process and with a 100% match on that initial deposit, this may be the best option if you're just restricting yourself to one offer alone.
Visit 22Bet
Fun88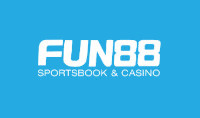 Fun88 will give you a free bet bonus of £50 when you register a new account and place a series of qualifying bets so once again, the first step is to head across and sign up for a new account. The first important point to remember here is that when you make your first credit, you must not use an eWallet so the safest way to proceed is to fund via a debit card.
Once those acceptable funds are available, you now need to stake six qualifying bets: These must be placed between the limits of £10.00 and £20.00 and must be a win single or straight line multiple. Minimum odds for single bets are set at 1.75 and for combinations, each leg of the multi must be at 1.40 or longer.
Once your final bet is settled you must contact customer support and they will credit your account with a £50 free bet token.
So, although there are a number of stages to go through, this bonus is a guaranteed one provided that you meet those regulations.