This is really where betting began with a sport stretching back centuries. For many years, horse racing would spark a gentleman's wager between two friends as to which animal would win and its popularity eventually led to the legalising of gambling across the UK, during the 20th century. Among new bookmakers, there is a bit of bias among UK operators who tend to stay away from 'anything on four legs' so it's really left to the traditional companies to provide us with options. Those UK horse racing bookmakers such as Coral, William Hill and Ladbrokes continue to support the 'Sport of Kings' but thankfully there is a new crop of online betting sites who are just as keen to get involved.
Betting Sites for Horse Racing
Benefits of Horse Betting Sites
The vast majority of UK focussed horse racing betting sites apply what is commonly known as a Best Odds Guarantee Scheme and this will generally link to all British and Irish horse racing. It means that when you back a horse at a certain price, the bookie involved will pay at the SP odds if they turn out to be higher.
Lots of promotions are tied into horse racing as well so look out for these from established bookmakers in the UK such as William Hill and Coral, and the newer betting sites including 888Sport, Winner Sports and Betway. Acca promos are very popular here so you may see price boosts if all your selections drop in or maybe a refunded stake if one leg of a straight line multi happens to let you down.
Enhanced odds specials may also appear at certain times and these could definitely come in for the big horse races such as the Grand National or any of the events taking place at the annual Cheltenham Festival in March. Horse betting sites could typically pick a horse from the field at selected races and greatly enhance its odds as a single bet, one off promo, subject to a number of terms and conditions. 888Sport, Coral and Paddy Power are among the horse racing bookmakers that frequently list this type of deal.
Alternatively, a betting operator may look at several races across one day and list a smaller price boost if they all drop in. William Hill and Ladbrokes are two of the more likely candidates for this sort of offer.
The Future
Among the betting community, horse racing remains extremely popular in the physical world. There's nothing like going to a meeting and feeling the excitement of placing a bet on course and watching the action develop in front of you. Betting shops can be busy too with certain punters preferring that type of atmosphere when betting.
The rise in horse race TV coverage has also helped the sport but undoubtedly, all the bookies have benefitted from the revolution in internet gaming. While some European focussed bookies stay away from the sport, traditional UK betting outlets continue to support it and with new players coming along all the time, there has never been a better choice of providers.
Value is there too in terms of strong prices and great promotions so the sport is thriving and if you are thinking of joining that sports betting community and getting involved, there has never been a better time to jump on board.
Genesis
Betting on horse racing carried on in an unlicensed manner over many centuries, firstly as an informal deal between two punters and then with an on course bookmaker. Eventually, some of those UK operators were recognised by the Jockeys Club and during the first half of the 1900's, we saw the big names of UK horse racing betting sites such as Coral and William Hill being established in sports betting.
The next part of the revolution came during the 1960's when licensed sports betting shops were finally allowed to be built on our high streets and that led to more familiar brands such as BetFred being incepted.
At that point, horse racing was the most popular sport from a betting point of view with football a close second and although those positions may have switched in the last twenty years, punters still love a bet on the horses.
Major Horse Racing Events
Belmont Stakes (USA)
Breeders' Cup (USA)
Cheltenham Festival (UK)
Dubai World Cup (UAE)
Epsom Derby (UK)
Irish Derby (IRE)
Kentucky Derby (USA)
Melbourne Cup (AUS)
Preakness Stakes (USA)
Prix de l'Arc de Triomphe (FRA)
Royal Ascot (UK)
Horse Racing Betting Sites Innovation
The Internet allowed new horse racing betting sites such as bet365 to come online for relatively small outlay, compared to the figures required to set up a physical shop. Betfair appeared too as the first exchange and we started to see new innovation come into the world of horse racing.
bet365 are among the pioneers of live betting which was introduced in 2002. Betfair not only gave us their exchange, they also were at the forefront of Cashout, a system that lets you collect money before an event has finished.
Despite these, horse racing remains very traditional with ante post still favoured by the online betting community but the digital revolution has certainly brought about its rewards.
Whether you are a fan of the new innovations or you simple prefer to make you selections ante post, in the traditional way, this is a golden age for anyone looking to bet on horse racing.
Horse Racing Tips
Whether you're an experienced gambler, or someone new to the pastime, the one thing that everyone looks for is some sure fire horse racing betting tips. As you get to the more advances stages of betting, there are some very complicated systems and strategies you can use but if you're just starting out, there are some general hints that you can follow.
Find Your Favourites
In the first instance it always pays to follow the experts: Keep tabs on the TV pundits for betting markets, and their predictions while checking the tipsters in the Racing Post, and the general sporting press. Over time, you can analyse how their betting tips fare and decide which of them you are going to follow.
A very basic method is to look at a term called draw bias: In a horse race, there is no such thing as a staggered start so the horses on the very inside of the track, have to run a shorter distance. Over the course of several furlongs, that advantage may seem very slight, but statistics indicate that a significant number of races are actually won by the horse on the very inside.
Be Careful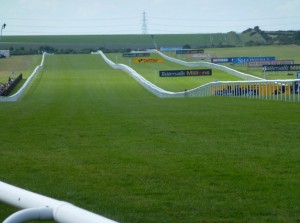 If you're attending a meeting for the first time, it's wise to avoid anyone who asks you for money in return for betting tips. Courses have occasionally been plagued by individuals who promise 'inside information' in return for your cash. The best advice you can get in this instance is to steer well clear as in reality, the information you receive will be no better than that which you can widely obtain for free elsewhere.
Moving on to slightly more advanced systems, there are certain runners that you can fairly reliably rule out of any race. Firstly, if you spot that a horse hasn't competed for four weeks or more, then it should probably be avoided from a betting point of view. The likelihood is that it is coming back from injury or illness and its trainer is just giving the horse a run out as it heads back to full fitness.
Similarly, if a horse is moving up in class, you may want to keep your money in your pocket here as well. The horse in question may prove itself at a higher level in time, but in the early stages it is more than likely to struggle in horse races.
Key Terms in Horse Racing Betting
Horse racing carries a set of jargon all of its own. We like to keep things simple when we work through our betting previews and guides but there are times when you may well see some terminology that isn't exactly familiar.
With that in mind, here is a rundown of some of the most common horse racing betting terms.
Jolly: If a horse is described as the 'jolly' this merely means that they have been installed as the favourite in the betting markets.
Banker: This is one of many terms that can be used for general sports. It is, however, very common in horse racing so it's worth repeating here. A banker refers to what is perceived to be a certain bet although, as we all know, there is no such thing in reality.
Ante-Post: An Ante Post bet is a stake made some time in advance of the off.
Best Odds Guaranteed: Once again, this can be used in other sports but this is a type of bookmaker's offer that is very common in horse racing. A best odds guarantee promises to pay you out at the highest of two sets of odds. So, if the SP price is longer than the odds available when you placed the bet, you will be paid out at the higher figure.
Drifter: This term is applied to a horse whose price starts to lengthen ahead of a race.
Longshot: A longshot is a longer priced horse who is unfancied in the market. A punter might be tempted to take a 'longshot' at around 20/1 or possibly higher.
Market Mover: As the term suggests, this phrase is applied to any horse that is moving in the market. It doesn't matter if the odds are shortening or lengthening – it will still be described as a market mover.
Nap: This is the best bet of the day from a tipster. A nap is another term that can be used in any sport but it is most common in horse racing.
Return: This is simply the amount of money that is set to be returned to the bettor if their horse wins.
SP: This is a common abbreviation for starting price. It simply refers to the odds that are available on a horse when the race starts.
Steamer: This is the opposite to a Drifter – i.e. a Steamer is a horse that has started to shorten in the betting markets.
Types of Horse Racing Betting
Horse racing isn't going to naturally provide a wide choice of betting opportunities but there are a number of options which will depend on your preferences. Firstly, if we start at the beginning, there is the obvious bet on the winner of the race itself.
It's simple in its concept: You merely study the horses that are set to take part in the race, decide on which one you think will win, and then you can place a bet accordingly.
The most common variant on this theme is to take an Each Way punt. Here, we have two bets in total, one of which is for the win and the other is for a place. Because there are two bets, your stake is doubled so, if you were looking to bet £10.00 on the straight win, you would need to double that to £20.00 to accommodate the place element.
The place profits will be paid depending on how many horses are in the race but generally, you can expect a return if your chosen runner finishes inside the top three. For the biggest renewals such as the Grand National or the Cheltenham Gold Cup, this may well be extended to six places or more as part of a special promotion.
As an alternative to the each way bet, punters can simply stake on their horse to be placed. In this scenario, there is just one bet that would typically pay out if the selected runner finishes inside the top three.
Those are the common options for picking a single horse but when you add more runners into the mix, the list becomes wider.
A double bet involves two horses, a treble takes in three while any bet that encompasses four horses or more is generally known as an accumulator. Remember that when you take on a bet such as this, all of those horses need to win or the total stake will be lost. Therefore, while the profits can be much higher for a multiple bet, the exposure is greater.
There are alternatives to the straight line multiples and these are generally known as systems or formulas. A Lucky 15, for example, takes in four horses and it consists of 15 bets. Here, there are four singles, six doubles, four trebles and a fourfold accumulator. If all four horses win, those 15 bets will pay out but the punter only needs one horse to win to claim a return.
Other forms of system bets include Lucky 31s, Trixies, Heinz and Goliath.
To round off, we will deal with forecasts, trifectas and superfectas which also deal with more than one horse. With a forecast bet, punters need to name two horses that they think will finish in first and second in that specific order. A trifecta works on the same principle but with three horses while a superfecta involves four runners that need to be placed into the correct order – 1, 2, 3 and 4.
Live, In-Play Betting
Many horse races are over in a short space of time but those bettors that like to get involved will manage to find some scope within the in-play markets. As soon as the horses are 'off' the live betting opportunities will commence and a good choice of options will be available.
Obviously, the most common of these will be the win bet for the horse that you think will claim the race, but you can also get each way, places and multiples.
Unlike sedate sports such as cricket or golf, the action in horse racing is fast paced and the live betting markets are very fluid as a result. Odds can change very quickly so you need to have speed of thought to make quick betting decisions and to carry them out.
If you are going to bet live on the horse racing markets, you may also want to look for a bookmaker who offers a strong live streaming service. There are some subscription TV channels that cover lots of meetings across the UK, Ireland and beyond but it may be cheaper to access these races via a sportsbook's live streaming. Most operators will only ask that you have a funded account to watch live sporting events while others may ask you to place a bet on the race in question. Because of that, it's important to check terms and conditions related to streaming before going ahead.
Who to Follow?
So what horses can you look for during any race? Early front runners should be watched very carefully, particularly on wet ground. Research will show you which horses consistently take an early lead and if they are running on ground that can easily be cut up, it will make the going much harder for those runners following on behind.
One of the simplest tips when it comes to betting on horse racing is to follow your hunches. There is no worse feeling than to spot a horse that you fancy and to talk yourself out of betting on it before it sails home in first place. It's actually much better to place a small gamble and then watch it lose.
Overall, betting on horse racing should be fun and it should increase your enjoyment of the race so do your research, look for some free betting tips and then sit back to enjoy all the action as it unfolds.