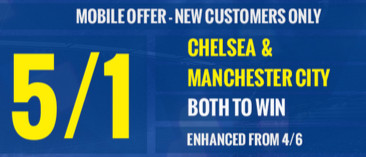 Bookmakers' odds can just be seen as a set figure: If you're quoted 4/1 on a horse for example and you stake £10 at that figure, you will collect a profit of £40 plus your £10 stake if your selection goes on to win that race. That's an easy concept to follow and it's one that has been at the cornerstone of betting for centuries but there are a number of ways in which you can increase that figure – sometimes without increasing your own exposure! The most popular of these are enhanced odds offers, so let's examine these.
Enhanced Odds Offers

The best way to obtain enhanced odds is to look out for bookmakers' promotions and a good way to spot these is to follow all of the bookies on social media. This ensures that you get all the latest news on enhanced odds offers and deals as they break so you'll never miss any of these opportunities.
Typically, an announcement could come before a big football match and a bookie may say that ahead of the big game between Manchester United and Arsenal, their price has increased from 10/11 to 2/1 on a United win.
Always check for the small print however because in the majority of cases, this type of enhanced bet will only be applicable to new customers. There may be exceptions but even if this is restricted to new account holders, some of these increased prices are really generous and will certainly make it worth signing up if you aren't already a customer.
New Customers Enhanced Odds:
There are other forms of enhanced specials of course. There's one for instance where the player gets an odds better than the original on a combo bet (doubles, trebles, etc.) made up of a fixed set of events and outcomes. Such promos are referred to as enhanced multiples and are especially common for football accas. For example Betway offers an odds of 11/1 on Anderlecht, Arsenal and Zenit St Petersburg all to win their respective game in a weekend round of the Champions League. Normally, when you have made these same bets as a treble odds would have been slightly below 10/1. Unlike with the above mentioned welcome offers, these kinds of enhanced odds promos are open to players already registered for a bookmaker.
You can find the best enhanced odds offers at the following bookmakers:
– betway
– Boylesports
– Coral
Another enhanced odds offer to look out for is often referred to as 'Multiple Insurance' or, more commonly, 'Acca Insurance'. Lots of bookmakers provide these and under this type of betting bonus, they will typically refund your stake as a free bet if just one of your selections fails to land.
More Traditional Way for Enhanced Bets
If a bookie says that enhanced odds bets are available then these can be on offer in two separate ways. Firstly, you could opt to bet on two selections in what's known as a 'double'. Let's take horse racing as an example once again and we'll say that you have backed two selections in two separate meetings on the same day.
Both horses are priced at 4/1 but the odds available in this double are 4 x 4 = 16/1. So, for your £10 stake you stand to win a very healthy £160 as a profit. Remember, however, that both rides need to win in order to secure that profit and if just one horse lets you down, your £10 stake is simply lost.
Similarly, these multiple bets can be increased infinitely to trebles, four folds and beyond. Four bets and above may also be referred to as an accumulator or an 'acca'. Once again, individual prices are multiplied to the point where the enhanced odds can start to earn some seriously good profits.
So, odds can be enhanced in a choice of ways and it's ultimately up to the individual punter concerned to decide if they want to increase their exposure for what could be a very significant increase on their final profit.
Terms for Enhanced Bets
Naturally, the terms of any betting bonus will be different depending on which bookmaker you are using and you should always read all of these to make sure you are completely happy before proceeding. However, there are some general rules that apply to all enhanced odds offers.
The deals that we have mentioned above are for new customers so if you already held an account with that specific bookie, you would not be able to access them. Another general rule is that the operator will typically pay any profits at the book price straight back into your account but the balance will then appear as free bet tokens, up to the enhanced figure.
However, this can still be a good deal if you were to receive around £60.00 in free bet tokens and were to land a winner with them so there is value. The question is, what's in it for the bookie and why do they quote such generous price boosts.
Long Term Thinking
One bookmaker has said that the idea behind the new customer promotion is to attract the casual punter; someone who has an interest in the game in question but may not have been considering placing a bet until they see details of the offer. If they sign up via that landing page then the bookie has a brand new customer that they may not have landed via the generic promotion.
It was also said that the enhanced odds promotions are 'of the moment' so you have to act fast in order to claim them before they disappear while the standard offer is always there and may not inspire that casual punter to act immediately.
Once that casual player comes on board, it is obviously up to the operator to keep them onside and to retain them as a long term customer but the enticement of the long odds offers has given them a chance to do just that.
Existing Players
Other bookmakers, such as Winner Sports, offer a completely different kind of price boost that is aimed at existing customers. These can be published on a daily basis and will be much smaller, shifting the price by less than one point in some cases.
However, the real benefit of these deals lies in the fact that they are much easier to access and some would say that the terms are more favourable. Essentially, while there may be standard limits under general rules and conditions, the maximum stakes that you see for new players are taken away.
So, if you have the money in your account to cover it, you can stake what you want and better still, if there are any profits then they come back to you as a straight payment into your account so you don't have to worry about free bets and their terms.
With this type of deal, the bookmaker is just trying to spark a bit of interest and give some extra value to their players. The points boost isn't much so they won't lose heavily if you win but it's just a nice incentive to keep people playing on a more regular basis.
Whether it's a big deal for a new customer or a smaller promo for existing players, the enhanced odds offers are here to stay and they are bringing great value to the whole betting community. We will look to preview the best of these deals so keep reading and find out where the better price boosts can be found.