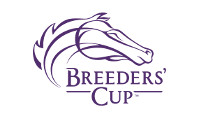 While horse racing in America may lack the wider coverage that you may see in the UK or in Australia, it's fair to say that the US provides quality as opposed to quantity. There are some truly prestigious events on the west side of the Atlantic but while the Kentucky Derby grabs most of the headlines, the Breeder's Cup has an equal following among dedicated racegoers, betting customers and punters.
In the lead up to the two-day event, the buzz around Breeder's Cup betting markets will start to intensify and millions will be staked on the bigger races. To understand a little more about the event and how Breeders Cup betting odds work, please read on.
Event Date: November
About the Breeder's Cup
Rather than being a single horse race as some may think, the Breeders Cup races are held over a two-day festival at a range of courses which include Keeneland, Santa Anita Park racetrack in California and Churchill Downs which is the permanent home of the Kentucky Derby. The notable thing about the event is that all of the races are Group Ones so there is no let up in the action. It's all killer and no filler to use a phrase and that's why Breeder's Cup betting is so active across the two days of this event.
At present, there are 14 Breeders Cup races in total across the two day meeting and the prize purses start at One Million Dollars. Among the many highlights are the Breeders' Cup Sprint, the Breeders' Cup Mile and the Breeders' Cup Juvenile but these are all leading up to the big one. The Breeders' Cup Classic carries the biggest prize fund of all at a cool six million dollars. This is the time when the odds will start to become seriously competitive but as we can see, there are 13 other races all worthy of your attention.
Breeder's Cup Betting
With gambling laws starting to be relaxed in parts of America, punters in certain states can now take part in Breeder's cup betting online. That factor will significantly increase the amount of money being staked on this event moving forward as prospective betting customers in some areas of the country can now access one of their own historic events.
This may also lead to an increase in offers and promotions that are specifically aimed at the Breeder's Cup. Potentially, we may see Breeder's Cup odds being enhanced with deals aimed at both new customers and those who already have an account with the bookie in question.
That's for the future but we do know that a number of bookmakers already have some generic offers in place that can be used for horse racing betting. Accumulator Boosts and Accumulator Insurance promos are typical of the best horse racing bookies and those operators should also have a best odds guarantee system available. This means that if you back a horse at a certain price and the SP odds are different, the sportsbook in question will pay at the higher of the two figures. This deal can generally be found in the UK and Ireland so be sure to check that they extend to the Breeders' Cup.
As far as options are concerned, all of the regular bets can be taken for the Breeder's Cup. Therefore, you can back the winner of each race but if you want to take a longer-priced punt, you can always change this to an Each Way option.
Place bets should also be available while certain bookmakers will also publish betting markets for forecasts, tricasts and superfectas. For those who aren't familiar, these relate to bets on the top two, top three and top four in each race.
Any bettor can also use multiples, formulas and patents that involve races within the Breeders' Cup. As we have seen, there are 14 of these races to choose from so you can easily combine doubles, trebles or higher or you could look to combine and construct a Lucky 15 or a Lucky 31.
History of the Breeders' Cup
The very first Breeders' Cup event was held back in 1984 so it's a fairly recent addition to the race calendar but it's become an important meeting in a very short space of time. The idea was originally put forward in 1982 and the intention was to create an end of season event for the best in American Thoroughbred Racing.
The idea received a mixed reaction but a company known as Breeders' Cup Limited took up the baton and the very first meeting was duly held in 1984. At that time, the new event was held across just one day and that situation remained in place for some years. In fact, this situation remained the same right up until 2006. At that stage, there were eight group one races and all of these were held on a Saturday but the popularity of the event was growing and it needed to expand. Accordingly, three additional runnings were added and these were set to take place on the Friday before.
The event had now become a two-day festival and this was the point when the Breeder's Cup betting markets really started to take off. Over time, the event expanded even further and eventually it extended to encompass the total of 14 races that we are familiar with today.
The host course changes and will tend to rotate between Churchill Downs, Santa Anita Park and Keeneland. Monmouth Park has also held the event but a low attendance record hasn't helped the location to become a permanent fixture on the schedule. Dates and venues are always published well in advance of the off so you can easily plan ahead.
Breeders' Cup Betting Guide and Tips
We've mentioned that there are 14 races in total and we've given you some highlights but these are worth listing in full. In order of ascending prize money these are:
Juvenile Turf, Juvenile Fillies Turf, Juvenile Turf Sprint, Dirt Mile, Filly and Mare Sprint, Turf Sprint, Sprint, Mile, Distaff, Juvenile Fillies, Filly and Mare Turf, Juvenile, Turf, Classic
Races are split over two separate days and the betting markets will open some way ahead of the meeting which will take place at the end of the season in America. This means that we are looking at the start of November each year. The 2020 Breeder's Cup will take place on November 6th and 7th and this is fairly typical of what we can expect as each year rolls by.
Only the best thoroughbred horses will take part and only a maximum of 14 entries are allowed. This can make betting online a tricky pastime so you will need to consider your bets very carefully. As with any horse race, that can involve some thorough research into form of each of the runners involved. Look, in particular, for horses that have performed well on the course that is set to host the event – if that information is available.
Another factor to consider is the selection process for each of the races concerned. Some of the horses involved have to come through a qualifying route known as 'win and you're in.' There is a set of Breeders' Cup Challenge races which are held right across the world – in the United States, Canada, Europe, Japan, South American, Australia and South Africa. 71 races in 13 countries are involved and these lead to 24 horses progressing to the Breeders' Cup itself.
This process ensures that we get the best of equine talent from right across the globe and it also helps to make the betting markets as tight as possible. Along with these 24 qualifiers, there are additional entrants based on a points system while a further set of 'wild cards' are chosen by an elite panel.
That's a very long and complex selection and qualification process but it's important to understand that sequence if you are looking to get involved with the Breeders Cup odds markets.
Now it's time to do the hard work and undertake that research. If you want a second opinion or you'd just like to hand over the hard yards to a third party, there will be a whole host of tips and previews all over the digital and printed press whenever the Breeder's Cup starts to appear on the horizon. We will also have a preview of the biggest races available so you can check up on those thoughts before making a final decision.
There is no shortage of quality in the betting markets so, whatever route you take, be sure to look to get involved with one of the most prestigious events in the horse racing calendar, anywhere in the world.